You're not getting older, the Mindset List is just getting newer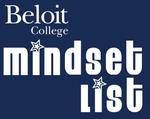 Beloit College has once again released its annual Mindset List, providing a look at the cultural touchstones that shape the lives of students entering college this fall – the class of 2015.
Since 1998, the Beloit College Mindset List has been as a reminder to faculty to be aware of dated references, and it has since become a catalog of the rapidly changing worldview of each new generation.
The Beloit College Mindset List for the Class of 2015
Andre the Giant, River Phoenix, Frank Zappa, Arthur Ashe and the Commodore 64 have always been dead.

There has always been an Internet ramp onto the information highway.

Ferris Bueller and Sloane Peterson could be their parents.

They "swipe" cards, not merchandise.

Their school's "blackboards" have always been getting smarter.

American tax forms have always been available in Spanish.

Amazon has never been just a river in South America.

Refer to LBJ, and they might assume you're talking about LeBron James.

Video games have always had ratings.

Music has always been available via free downloads.

Grown-ups have always been arguing about health care policy.

Sears has never sold anything out of a Big Book that could also serve as a doorstop.

Electric cars have always been humming in relative silence on the road.

No state has ever failed to observe Martin Luther King Day.

While they've been playing outside, their parents have always worried about nasty new bugs borne by birds and mosquitoes.

Public schools have always made space available for advertising.

Their parents have always been able to create a will and other legal documents online.

They've always wanted to be like Shaq or Kobe: Michael Who?

They've often broken up with their significant others via texting, Facebook, or MySpace.

They won't go near a retailer that lacks a website.

Andy Warhol is a museum in Pittsburgh.

Refugees and prisoners have always been housed by the U.S. government at Guantanamo.

McDonalds coffee has always been just a little too hot to handle.
Beloit recently applied their popular format to 10 generations of Americans over 150 years in their new book, The Mindset Lists of American History: From Typewriters to Text Messages, What Ten Generations of Americans Think Is Normal (Wiley and Sons.).