WUSTL expands campus card program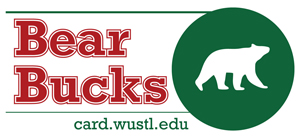 Washington University in St. Louis has expanded its campus card program with the addition of Bear Bucks.
The program eliminates the need for students, faculty, and staff to carry cash or coins for everyday purchases such as meals, laundry, vending and printing. Bear Bucks can be used at all university dining locations on the four WUSTL campuses, as well as select off-campus eateries located nearby.
Students, faculty, and staff can also save money using the Bear Bucks program as all food purchases at WUSTL Dining Services locations are tax-exempt, resulting in a savings of approximately6% to 9%.
The university is further working to expand the Bear Bucks Program to other off-campus businesses and for non-food-related needs. The Bucks never expire and remain active until a student or employee leaves the university.