Wisconsin technical college launches new campus ID card program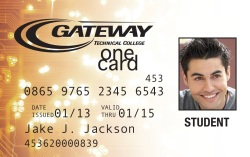 Gateway Technical College, Kenosha, Wisc., has rolled out the school's new campus ID card program backed by campus card provider CardSmith. Besides Kenosha, the college's campuses in Racine and Elkhorn are also covered by the new program which replaces a campus card that was used primarily for ID purposes.
In addition to identification, library and event access, the new GatewayOneCard gives the school's more than 20,000 students access to cashless printing and copy services on each of the campuses and to dining services at the Racine campus.
Students can add value to the card's discretionary spending account via an on-line card holder account center or at kiosks at each Gateway location. The college upgraded card production capabilities by deploying new systems at its three campuses.
The GatewayOneCard is powered by CardSmith's cloud-based system, providing transaction services without on-campus systems or software, or dedicated administrative staff. The service includes web and account access and funds transfer, on-line reporting and administrative access and round-the-clock monitoring. The College is also utilizing CardSmith's RapIDCard card production solution which is integrated with the transaction system.
CardSmith was chosen, said Riley, because the company's managed service does not require the school to manage or maintain systems or dedicate staff to operate the program.