Wiscard gets new face and features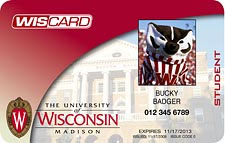 The new University of Wisconsin- Madison's Wiscard has a new look as well as new features simplifying life for students, faculty and staff by enabling them to performing four functions in one card. The new card will serve as a campus photo ID, be used for building access, and work as a debit and meal plan card.
The new card still will use bar code technology to enable cardholders to check out library books and use the magnetic stripe to access buildings as well as pay for meals with the "Campus Cash" debit feature and "Housing food" or "Union meal plans."
Along with the new card design and features, the cards will no longer be printed by the UW Police Department, instead they will be printed at the University's new Wiscard Office. The cards are being phased in and current ID cards will continue to operate until their five-year limit expires.
Read the full story here.