Wireless access control conserves installed ID card systems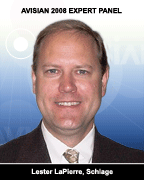 Lester LaPierre,
Marketing Business Development Manager,
Ingersoll Rand Security Technologies,
Schlage electronic security

Wireless access solutions are now protecting tens of thousands of doorways, from government agencies to university residence halls, and their use will continue to expand.
Open architecture designs means wireless solutions seamlessly integrate with existing access control system and provide limitless choices if installing a new system. Users can now have one access system for both traditional wired openings as well as wireless ones, yielding only one database to manage and one transaction screen to monitor.
Whether a retrofit or new construction, the business case for deploying wireless access control systems in networked openings is compelling. Wireless systems use less hardware and install faster, which could mean lower installed costs.
A wireless system can also integrate into existing access control systems, meaning facilities can continue to use their existing credentials. Wireless access control, in consort with the wired system, means access privilege changes and audit records are available at the central control terminal, all from a common database, which simplifies data entry and management. In addition, wireless transmissions are encoded using 128-bit private keys.
One advantage of a wireless access control system is that it could eliminate conduit, wire mold, plastering and repainting, making it a good alternative for difficult-to-wire situations. It also retains the integrity of historical buildings and avoids potential asbestos issues in older buildings.
In addition to providing access control at a door in the form of a wireless lock, organizations can also create wireless solutions for elevators, gates, exit devices and electric strikes, using their present credentials to enter these access points. Wireless access control systems also eliminate the need to go door-to-door to upload changes and download records, making wireless locksets a good alternative to off-line, standalone locking systems.
---
About the AVISIAN Publishing Expert Panel
At the close of each year, AVISIAN Publishing's editorial team selects a group of key leaders from various sectors of the ID technology market to serve as Expert Panelists. Each individual is asked to share their unique insight into what lies ahead. During the month of December, these panelist's predictions are published daily at the appropriate title within the AVISIAN suite of ID technology publications: SecureIDNews.com, ContactlessNews.com, CR80News.com, RFIDNews.org, FIPS201.com, NFCNews.com, ThirdFactor.com, and DigitalIDNews.com.