Web-based ordering, wireless, and integration dominate '05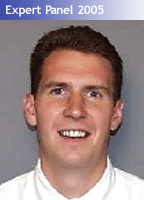 A panel of ID industry experts provided predictions for 2005. One of these glimpses into the future will appear here each day during December.
by Read Winkelman, National Sales Manager – Colleges and Universities
Transaction Processing Systems, The CBORD Group, Inc.
Three predictions for campus card system trends in 2005:
1) Web-based ordering will become the "hot new technology"
2) Wireless and handheld applications will become common
3) Integration with campus IT conventions and database platforms will become increasingly important to lower TCO
Colleges and universities have to compete more fiercely than ever for students. The smooth delivery of services to campus populations is an important way to differentiate one campus from the next. Web-based ordering allows students to avoid standing in line. Students can order from a PC, or from their web enabled cell phone as they walk across campus.
Web-based ordering increases the check average which helps the bottom line. A fax interface can incorporate orders for off-campus businesses. As a result, the campus card system goes off-campus without the addition of hardware.
Wireless and wireless networks devices are becoming the norm. Campuses will look for vendors to provide hardware that uses their wireless infrastructure.

Campus IT departments are increasingly looking for products that allow them to leverage their current investment in enterprise software for additional administrative applications. This allows for a lower total cost of ownership. Systems that fit within the University database platform architecture, offer a broad range of integrated application functionality, or provide interfaces to existing products on a campus will be most frequently chosen.
---
Visit CBORD on the web at www.cbord.com.