Video Surveillance and Campus Cards: A Total Security Solution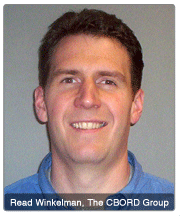 Part of the AVISIAN Publishing Expert Panel series to be published throughout December 2006
Read Winkelman, The CBORD Group, Inc.
Video cameras are becoming increasingly common on college campuses. It is now estimated that more than half of junior high and high school students attend a school with one or more security cameras. We are becoming accustomed to being monitored.
As the role of campus card systems changes and grows in light of new technological innovations, access control and video surveillance will become increasingly ingrained in purchase decisions. Already, we have seen headlines about criminal cases solved on college campuses with the help of card system software linking cardholders to specific locations at specific times. Campuses are now starting to use the software to back this up with video footage of card usage, and tracking of security events that send alerts to the system, both of which allow security officers to follow cardholders' activities from one location to another.
When CCTV (closed-circuit television) and DVR (digital video recording) equipment is integrated with a campus card access system, the result is a powerful, flexible security solution. The systems work together to provide video capture of events detected by security features in the card system, as well as playback and monitoring of video records of those events. This software integration goes beyond simply monitoring activity. It allows campus administrators to react quickly to events as they occur, as well as track the events that precede and follow them.
For example, at North Carolina A&T State University, the school's campus card system is tied to a centralized monitoring station with eight DVRs networked to almost 150 cameras located throughout the campus. When an event is triggered in the campus card system within view of one of these cameras, live video can be pulled up on the screen. This enhanced security system provides students, guests, and staff a sense of comfort and strengthens police operations.
As security becomes increasingly important for administrators, students, and parents, any auxiliary system on-campus that can be used to improve safety will be called upon to do so. What this holds for the future of campus card technology is new and better integrations between campus card systems and surveillance technology, as well as more alarm and security management features within the software itself. (And a better night's sleep for campus security officers.)