UNC Chapel Hill and Diebold build futuristic self-service entertainment facility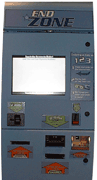 The University of North Carolina at Chapel Hill (UNC) wanted, as its auxiliary services director described it, "a fun place for students" that would keep them on campus.
What the campus created was an innovative video game arcade with a convenient way to order food, all electronically driven and all utilizing the university's Diebold CS Gold campus card.
Diebold worked with third party vendors to provide UNC with kiosks that allow students to order their food interactively, via a touch screen. The only time students see a human face is when they pick up their food.
Mike Freeman, UNC's auxiliary services director, said the university had recently built a new dining facility called the Rams Head. One area, called the End Zone, had a downstairs eatery and an upstairs seating-only restaurant complete with a game room loaded with popular video arcade games.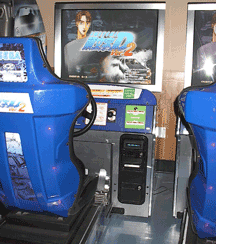 "We were trying to build a destination point (to keep students on campus) that would fill a void we thought was missing," explained Mr. Freeman. "In evaluating our dining concept, I happened to visit a couple of sports bars and I noticed a lot of them had games, and I thought this would be a great way to keep students on campus and off Franklin Street where the bars are."
The university installed three kiosks downstairs in the eatery portion of the Rams Head, and the video games upstairs. It quickly became apparent that students using the video games would have to go downstairs to order their food, so two more kiosks were installed in the video game area, said Mr. Freeman.
Using the interactive touch screens in the kiosks, students order their meals. Then they pick up a pager, enter the pager number with their order and pay for the meal either with cash or their Diebold CS Gold card, said Mr. Freeman. When their meal is ready for pickup, they are notified via the pager.
For the video games, the only payment source is Diebold's campus card. "I didn't want to collect money from all those machines," said Mr. Freeman. "It was a no-brainer to tie into our card system, so I contacted Diebold." Over a period of about 18 months, the company installed the system.
Mark Reinart, director of product management and marketing for Diebold, calls the UNC project the "future of campus automation."
He said it was "Mike Freeman and his vision that brought all this about. The school has always been on the cutting edge with CS Gold. They had a vision and we had a way to make the technology work."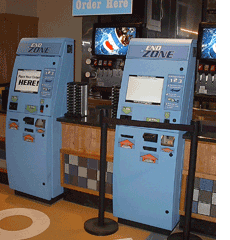 "We love automation and toys at UNC," said Mr. Freeman. "The idea is to be more efficient. After we decided to bring games in here, we then started talking about Diebold using customer-activated machines. We did some investigating and at one restaurant show, I bumped into Intermedia. That's where the interactive kiosks came into being."
Intermedia supplied the kiosk but then there had to be a way to link back to Diebold. An ETI (electronic terminal interface) was installed in the kiosk with the middleware required to connect with Diebold's system, explained Mr. Freeman.
Diebold's vending reader is used on the video games. The games are card-activated, which means only Diebold's CS Gold campus cards are acceptable. No coins or tokens can be used, said Mr. Freeman. However, for food purchases at the kiosks, cash or the campus card are acceptable.
The Rams Head offers a full scale dining facility as well as a convenience store run by Aramark and which is equipped with an inventory management system which tracks what the store sells so it knows when to re-order.
"In this day and age, students are very savvy electronically. Some were concerned how they (students) would adapt. But it has been flawless. We haven't had any complaints," said Mr. Freeman. "Some of the positive comments I've received include 'cool,' and 'innovative,' " he added.
Diebold has been at UNC for more than 10 years but specifically with its CS Gold system since 1998, said Mr. Reinart.
"They (UNC) are really proud of the End Zone. It has created a positive, futuristic, automated environment on campus," said Mr. Reinart. "Students can do much more without person-to-person interaction."
Diebold has provided a similar unattended system for James Madison University where students can purchase specialty Starbuck's coffee products. With the new announcement of Diebold's acquisition by CBORD, it is likely that other campuses may see similar innovative applications combining the CS Gold system with CBORD's WebFood offering.