Traditional campus card programs can help solve many challenges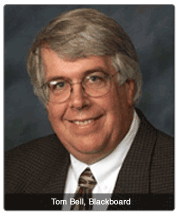 By Tom Bell, vice president of Commerce Industry Relations at Blackboard
During my time working on campuses and in discussions with campus executives it has become apparent that some interesting and non-traditional problems are being resolved through the effective use of the campus transaction solution.
Today's campus card program, like any enterprise system, does not end with deployment. Good planning and creative on-going innovation must be the norm on campuses with highly successful card programs. These campuses see innovative ideas and applications emerge as systems mature and more departments become familiar with how to match system capabilities with existing campus challenges. Extended program reach, better cash handling, improved risk management practices, more convenient services and better reporting are often the result.
Imagine resolving the following challenges on campus:
The Division of Administration and Finance needs better control and reporting for service contract administration and cash handling procedures.

Campus financial challenges mandate the need to find new revenue streams and build on cost saving opportunities utilizing technology investments.

The Student Services Division wants to make certain that event and activity participants are members of the campus community in good standing.

The need to connect with local community businesses to demonstrate the value of the campus is part of the campus mission statement.

Students want an easier way to access services 24 hours every day and eliminate the need for cash as much as possible in the daily routine.

The CIO needs to integrate multiple campus systems, delivering services to students in order to maintain the accuracy and consistency of data for the development of CRM opportunities.

The executive team requires campus resource usage to be measured to make certain valuable campus assets are being spent wisely.
A quick agenda review at NACCU's annual conference or any of the card system provider user conferences will yield a wealth of actual experiences in each of the above categories.
The good old campus card is evolving towards a mission critical platform that can be used to solve challenges and help campuses better engage students. From enhancing campus security plans, to allocating tickets to sporting events, to accessing mass transportation, the reach of the campus card is only limited by lack of imagination and a hesitancy to step forward with a non-traditional suggestion.
On many campuses card programs are stuck in the same track of only influencing the delivery of traditional "auxiliary service" types of programs. As a result the card program's value and impact cannot be felt.
Comprehensive campus card programs must reach across departments and touch every campus division and service in some way. Doing this requires executive level support together with creative card office management. Creative and dynamic business partners are also needed. The courage to move forward will pay untold dividends to the campus. There is no time like the present to start the process because everyone would win.
---
About the AVISIAN Publishing Expert Panel
At the close of each year, AVISIAN Publishing's editorial team selects a group of key leaders from various sectors of the ID technology market to serve as Expert Panelists. Each individual is asked to share their unique insight into what lies ahead. During the month of December, these panelist's predictions are published daily at the appropriate title within the AVISIAN suite of ID technology publications: SecureIDNews.com, ContactlessNews.com, CR80News.com, RFIDNews.org, FIPS201.com, NFCNews.com, ThirdFactor.com, and DigitalIDNews.com.