TokenWorks launches Bluetooth portable card scanner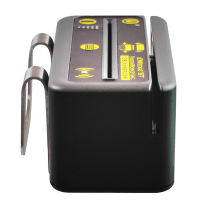 TokenWorks, a Bronxville, N.Y.-based provider of portable card scanners, has rolled out IDWedgeBT, a Bluetooth ID Card Scanner that can speed electronic form entry of driver licenses, credit cards, student and military IDs and membership and loyalty cards, thus eliminating keypunch errors.
The information is sent via Bluetooth to computers running Apple, Android and Windows operating systems. According to the company, the reader is 20 times faster than manual data entry, requires no software development and works with any computer or mobile device that pairs with a Bluetooth keyboard.
Unlike traditional card scanners that send raw card data, IDWedgeBT's built in software recognizes different card types, extracts relevant field data and executes a user defined script to enter card data directly into an electronic form.
Once IDWedgeBT is configured for a specific form and paired via Bluetooth, the user scans or swipes a card. IDWedgeBT then automatically completes the form's contact and/or payment section(s).
The reader works with the iPhone 5, iPad Mini and iPod 5. It will also work with next year's iPhone 6, iPad 5 and iPod 6 because it doesn't depend on specific connectors nor does it need to fit into a piggyback case. It works with Windows Slate, Android Nexus Tablets, Android phones, Samsung Galaxy II and III phones, MacBook Pro laptops and Linux devices.