Texas campus capitalizes on the flexibility of NuVision's One Card system

By Andy Williams, Contributing Editor
For nine years, Texas A&M International University (TAMIU) had, in the words of its ID administrator, "just plain ID cards used for identification and library checkout of materials" and nothing more. A year ago, the small school located in Laredo, Texas on the Mexican border, switched to NuVision Networks' One Card and hasn't looked back.
"When we made the move, NuVision (Napa, Calif.) came in and had the whole process working in a week," said Albert Chavez, the university's ID system administrator. "Then we started with re-carding everyone. It was a pretty smooth transition from the plain cards we had before to a new card with more features that help make the student's campus life easier."
TAMIU bills itself as being located at the "Gateway to Mexico," actually the border town of Laredo. At its creation 35 years ago, it was called Texas A&I University at Laredo and was originally designed to meet the demand for teachers and provide business courses. It was considered an upper-level school, which means it only offered junior and senior courses. After a couple name changes, which included joining the Texas A&M University System, it finally became TAMIU in 1993. Two years later, the university became a four-year school and was authorized by the state's Legislature to develop joint degree programs with Mexican and Canadian institutions. In 2004, the school offered its first doctoral level program, a doctorate in international business. It currently has a student population of about 4,500. Although the college has dorms, a majority of the students are commuters.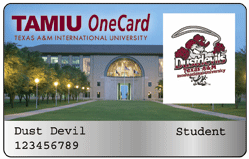 TAMIU selects NuVision …
As Mr. Chavez explains it, after nine years, the school had outgrown its "plain ID cards" and decided to look into one-card programs that other schools were using.
"We evaluated the major one card vendors," said Mr. Chavez.
"What made us go with NuVision was their use of the latest technology and their customization feature. Besides having your base software, they can customize it to meet our school's needs," he said. "We also felt it was a more secure system."
NuVision President William Adoff, a former computer science professor, agrees that security is one of the company's strong points, particularly since it's online-based. "We have the only One Card System that uses AES 256-bit encryption along with Packet-Lok, which makes us the most secure system in existence. This high security extends to all NVN components including wireless, and even vending readers."
As to NVN's customization aspect: "One of our theories is that a school should never have to change its business model to meet our needs. It is our requirement to make any modifications to our processes to meet a college's business model. It's just the way it has to be."
The TAMIU card is a standard mag stripe with the student's picture, name, and classification. The card also has debit card capabilities for on-campus use. "Students can put money on the card at our business office, but we also have automated cash to card stations around campus," said Mr. Chavez. "Students can add funds to pay for goods and services on campus, such as in the foodservice area, the book store and copy center."
Beginning next semester, students or their parents will be able to reload their cards or check their balances via the web, Mr. Chavez said.
Issuing the cards is easy, which is why re-carding went smoothly. "NuVision has its own video imaging software. We take a picture of the student and print out the card," he said. With NuVision-issued wireless readers (which also contain a camera) college staff can attend freshman orientation, take pictures and have the ID cards to the students the same day, he added.
The same wireless readers function as activity readers. "They'll show if a card holder (i.e. a current registered student) is eligible to attend an event," said Mr. Chavez.
Flexibility is key for the TAMIU card office …
But Mr. Chavez is happiest with the system's flexibility. "We've been very satisfied with the card system, especially with the customization aspect. We actually developed an equipment checkout application and use that at our recreation center," added Mr. Chavez. "The attendant swipes the student's card and looks at a listing of equipment that's available that can be issued to the card holder."
The card also tracks a student's meal plan. "Our students staying in housing on campus (about 400 of them) all have meal plans (for a specific number of meals per semester) on their card," said Mr. Chavez.
Another indication of NuVision's flexibility is the ability of its system to connect with third-party vendors. For example, electronic door access system for the dorms is through Compass Technology. "You create a cardholder on the NuVision system and it's transferred over to Compass," said Mr. Chavez. "NuVision can interface with other vendors (as well)."
The TAMIU card is also acceptable by the college's copiers and a vending capability for snack machines or washing machines may be added on later, said Mr. Chavez.
Customized functionality for campus offices …
"One application NuVision developed for us is a sign-in program," he added. "When a student goes to the career services office, his card is swiped, the attendant can pull up the student's information and can check off the reason the student came into the office. This is a great way to document utilization of this office and in preparing reports for the university."
Along the same line, the college will soon be introducing a NuVision-developed application that will track the university's tutoring sessions. "We can track when the student came in, what he's being tutored on and which tutor was assigned. This will also will help at the end of the semester to see if we need more tutors in say, math," said Mr. Chavez.
NVN recently introduced a similar system at Paine College in Augusta, Ga. The college's Tutorial and Enrichment Center is required to maintain detailed records of usage to meet Title III grant requirements. NVN modified some of its software to accommodate the college's needs. Now, users can simply scan their cards in a computer, choose the faculty member, course, and tutor and click a sign-in button. To sign out the cardholder simply swipes his or her card again and presses the sign-out button.
NVN's One Card system began over 20 years ago as AMECS (access monitoring eligibility and control system) and when it became internet-capable, it became iAMECS. Now NVN has iAMECS Advanced that is "our advance system that includes a pure one card system with complete campus-wide integration," said Mr. Adoff.
It handles meal plans and activities can integrate with a university's other departments, such as accounting, and, as already noted, can be used for access control through NVN's partnership with Compass. "In a nutshell, any service that a college provides should be able to be controlled with a One Card," he added.