Texas A&M bus ID policy rarely enforced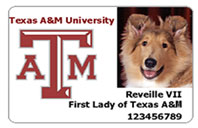 Texas A&M provides free bus rides to its students living off campus as long as they have a student ID. However, according to students, bus drivers and even University Transportation Services, student IDs are seldom checked. That means non-students could probably grab a free bus ride.
The university has even posted notices at the bus stops advising riders that a student ID is required.
"You can put signs up everywhere, but if you don't enforce it, it's just another sign," said the parent of one of the student riders. "If they aren't monitoring, I think that can be a problem down the road. What's the point of putting them up?"
"We don't check every stop, every time. That can slow entry to the buses," said a Transportation Services spokesperson. "We don't have time to check every student, every ride."
The university owns 80 buses for eight on-campus routes and 10 off-campus routes. The service is funded through a $70 student fee included in tuition and fees.
Read more here.