Technology catches up, making off-campus payments 'new order of the day'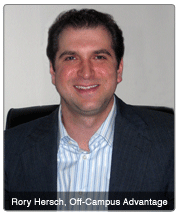 Part of the AVISIAN Publishing Expert Panel series to be published throughout December 2006
Rory Hersch President Off-Campus Advantage
The coming year will be an exciting one in the campus card industry. With more and more schools realizing the myriad values in creating true 'one card' systems, innovation is the new order of the day. No subset of the one card is better positioned for expansion than off-campus payment.
Like most aspects of technology, off-campus payment processing using the campus ID as a declining balance, stored value account will get faster, with high-speed terminals and DSL lines confirming funds availability in under five seconds. In this same vein, we will continue to see the elimination of modem banks verifying each transaction via a slow dial-up connection to the school. This antiquated method of funds verification will be increasingly replaced with central server technology- all transactions going through a single, high speed and secure point-of-entry.
Technology will simplify the day-to-day operations in the local merchant communities surrounding campuses. The coming year will likely see the technology itself becoming more interoperable among nearby campuses— even if they use different on-campus card systems.
Merchants who participate in off-campus payment programs will be able to use their existing bank card terminals to process transactions; they will also be able to use just one terminal to serve multiple campus communities. Standardization means no more counters full of different machines for each university ID card. This will also allow for many regional and national merchants to partner with multiple universities, all through a single clearing point. The technology behind the interoperability will also need to make room for non-standardized card numbering schemes for the vast number of schools that do not use a 16-digit ISO.
We will also see the growth of rewards programs tied to on- and off-campus payment with the school ID. When every airline, drugstore, grocery store, credit card and online shopping site is enhanced by a rewards platform, it's a natural progression for students to expect equivalent benefits from their campus ID payment platform as well.
Finally, schools that already have programs up and running will keep growing those existing programs. More student requests for their favorite merchants, along with more merchant requests to be included in the program means a greater breadth and depth of offerings for each school's off-campus payment program. In short, growth for campus card programs is on the agenda for 2007.