Student Advantage grows key management team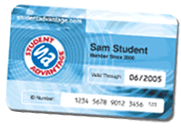 Two new members of the Student Advantage team were announced recently, Ed Vargas as Director, Business Development and Mark Egan as Director, University Marketing and Relations. The new additions help round out the team under Richard Libby, the company's recently appointed Managing Director.
Student Advantage Strengthens Senior Management Team
BOSTON, MA: Student Advantage, LLC, a leading discount service focused on the higher-education market, today announced the appointment of Ed Vargas as Director, Business Development and Mark Egan as Director, University Marketing and Relations.
Vargas will develop strategic national partner relationships to drive cardholder value through discount marketing programs. This will include working with a wide variety of national brands seeking access to the $122 billion dollar student spending category.
Vargas comes to Student Advantage with more than 20 years of achievements in sales and marketing management. Previously, Vargas was President and owner of Targeted Marketing Strategies, where he represented such notable publications as Good Housekeeping, Women's Day, and Smart Money. Vargas will also draw from his management experience as a former senior executive with a media division of Time, Inc., where he served in various sales and management capacities, selling strategic marketing programs to national and global companies.
Mark Egan will work closely with Universities and Colleges to bring the Student Advantage program directly to their schools. Student Advantage programs help students and parents reduce many of the costs associated with attending college.
Egan is pleased to return to Student Advantage, where he began his career working with the company's national partner program. He has also worked in publishing and the medical information industry in client service management.
"We are thrilled to welcome Ed and Mark to our team," says Richard Libby, Managing Director of Student Advantage. "Both are highly experienced executives, and will be very helpful in providing our clients and partners with the high-quality products and services they have come to expect from Student Advantage."
About Student Advantage
Student Advantage, LLC is a leading discount service focusing on the higher education market. Student Advantage works with hundreds of colleges, universities, campus organizations, and corporate partners, and more than 20,000 discount locations to develop products and services that drive value, savings, and convenience—enabling students to make purchases less expensively around campus, across the country, and online. The company reaches its consumer base offline through the Student Advantage Discount Card and online through its www.studentadvantage.com website.