Sleek handheld from Labcal reads biometrics, contact and contactless chips, barcodes, and more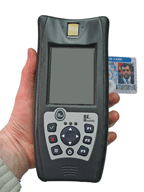 The latest ammunition in the continuing struggle to keep secure areas secure may come in the form of a small handheld biometric reader that can identify a fingerprint or read a bar code off a truck, license tag, or ID card. With contact and contactless capability, the new reader from the Canadian company, Labcal, can also serve as a backup system if the main server goes down.
The rugged Be.U Mobile, developed by Labcal Technologies, Quebec City, is obviously designed for outdoor use – it can withstand a hard rain – and can also be used in remote areas to guard against security breeches.
"The neat thing about this device is you can authenticate the carrier of any ID document by verifying his fingerprint stored on the document," said Gregory McConnell, Labcal's director for business development in the Americas. "If the person doesn't have a document, the device can capture the raw image of the fingerprint and send it over to AFIS (Automatic Fingerprint Identification System used by the FBI, Interpol, and other law enforcement agencies)," said Mr. McConnell.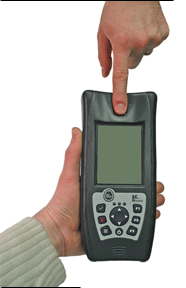 An array of supported ID and communication technologies
The Be.U Mobile supports both bar codes (1D or 2D) and OCR. "It will read contactless and contact smart cards, basically all three major ISO standards – 14443 A and B, and 15693," he said.
"Labcal developed and still sells the world's first mobile handheld fingerprint and smart card reader, the Mobile Checker. It still is a good reader today, but it was developed on our StongARM processor platform and used our proprietary operating system, so third parties couldn't program their applications to run on it," he added. Also, it supported MIFARE contactless cards only and didn't have wireless capabilities.
"Intel's newest processor for the handheld, called the XScale, runs the latest Windows CE, the dot net version 5.0," said Mr. McConnell, "which allows third parties to program their own applications, an essential feature since most of our sales are done through our network of partners."
The Be.U Mobile has WI-FI 802.11b built in but can come with an optional GSM (Global System for Mobile telecommunications) wireless interface.
While a Wi-Fi wireless communication interface alone might have limited its range, with GSM built in, "you can communicate across the nation," said Mr. McConnell. Other wireless connectivity capability includes CDMA (Code Division Multiple Access), a GSM competing technology.
The Be.U Mobile performs 1:1 matching with an ID document, contact or contactless, and 1:N (also known as 'one-to-many') matching by storing the fingerprint templates and the credentials in the reader or on a server. Used in combination with a server, the handheld can update a revocation list each day. "If you're operating in real time, you can verify if the card was revoked a minute ago," said Mr. McConnell.
Applications abound
He recently introduced the Be.U Mobile to transportation security authorities, like the Transportation Security Administration (TSA) in the U.S. and the Canadian Air Transportation Security Authority (CATSA) for ID card projects such as the Transportation Worker Identity Credential (TWIC) and RAIC (Restricted Area Identification Credential).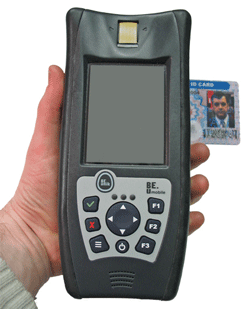 He added: "In too many airports around the world, they're letting people enter secure areas simply because they recognize the truck." The mobile reader can verify the ID card and read a bar code on the truck or even on the license tag, he said. "Transportation security authority agencies are interested in our handheld reader because it's unique."
It reads bar codes, not through the traditional swipe mode, but with optics. Equipped with a 1.3 megapixel camera, the Be.U "can shoot and aim at a bar code. Instead of having to insert the document in an area that reads the bar code – if the bar code happens to be printed in the middle of the document, it can be difficult to read – we can read bar codes even off a box or a license plate. This camera also has plenty of resolution for facial or iris recognition. Those aren't enabled because we'd have to make a few changes, but we've been in conversation with two of the biggest players in iris recognition and we could enable it if we had a partner who could work with us."
The reader is currently in what Mr. McConnell calls a "low production level. It will be the end of this year before we go commercial and in early 2006 before mass production begins."
The base memory of the reader has 128 MB ram and 32 MB flash but it will take up to a 1 GB SD memory card, he said.
The company calls the reader "algorithm agnostic" which, said Mr. McConnell, means "we're open and ready to support any algorithm out there."
The reader also has the smallest form factor on the market, he said. "There are a few out there that are the same size, but they have fewer features. Those readers with the same features as ours are larger. The challenge is to keep it a handheld. It's really a mini PC. It has everything a computer has, and more, plus it's rugged. It's larger than a PDA, but it can fit in a carrying case on your belt, or hang around your neck." While it doesn't have a keyboard, it has a large LCD screen that can display a Windows CE keyboard if the user needs it.
While it's still early, Mr. McConnell hopes the reader can find its way into major projects, such as RAIC, TWIC, the U.S. Department of Defense's Common Access Card, e-passports, national ID cards, and others.
Labcal specializes in biometrics, smart card and Public Key Cryptography solutions for ID authentication. Its headquarters are in Quebec City and the company has sales offices in Montreal, Ottawa as well as affiliate offices in India, the Middle East, Malaysia, and Indonesia.
---
Additional resources:
To visit Labcal on the web, click here.