School district speeds up lunch lines with one flick of the finger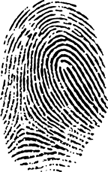 The Avon Lake school district is employing the use of biometric scanners for students to purchase cafeteria meals in lieu of cash, according to a local news source.
To pacify concerned parents and big brother advocates, school officials point out that the system doesn't actually capture or store a student's fingerprint but a finger image derived from the print.
The fingerprint itself is not actually stored, and therefore cannot be reproduced. The system scans the student's finger, takes nine points and assimilates it into a graph. That graph is then linked to the student's ID and stays on the school's secure server. Once the student graduates or transfers out of the district the image is permanently deleted from the system.
The district previously used a PIN system that required students to put in a six-digit code to purchase lunchroom meals. School officials say that the new biometric system is faster, especially when considering the number of young students who forget their PIN, resulting in longer lines and less time for students to eat.
The school district has already mailed letters out to parents advising them of the new system. Those who opt to not have their student's fingerprints scanned will still be able to use the PIN pad.
To read more click here.