SALTO provides smart access solution for Hawaiian university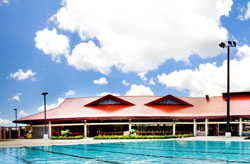 To ensure only accredited students, faculty and staff at the University of Hawaii, Hilo can gain admission to its new 23,000 square-foot Student Life Center, the school tapped Spanish company SALTO Systems to provide electronic access control. The center is now protected by a control system that includes a combination of 34 networked on-line and off-line battery powered locks, panic bar interfaces and eight 13.56Mhz RFID wall reader "hot spot" control points.
The solution enables control for entire building including the main gate, all perimeter doors and one internal door controlled by the hot spots, with the remaining internal doors controlled via off-line locks. This enables staff to control all the locks in the building with one software package and one card system.
All components of the system are controlled with MIFARE contactless smart cards with the online elements interfacing with the SALTO Virtual Network (SVN) that enables the 3,300 student university to reduce the time needed to manage the system.
This eliminates the problems associated with traditional key control, removing the need to replace locks when security is breached due to the loss or theft of an access card. It combines on-line control points with off-line standalone locks enabling users to manage up to 60,000 users and up to 60,000 doors in the same system. It also eliminates the physical restrictions of traditional stand alone electronic locks and can seamlessly integrate with an existing access control system to allow ID cards and locks to be updated, restricted or deleted remotely.
Another function of SVN is its departmental operation. This allows each faculty member to manage only his own doors and/or users, while certain other doors and users can be simultaneously shared with other faculties, for example main entrance doors.