Revamped NACCU conference schedule addresses both attendee and vendor experience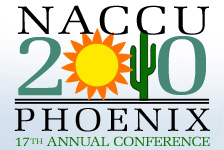 The schedule for the 2010 National Association of Campus Card Users (NACCU) Annual Conference is out and there are some significant changes from year's past. April in the desert is a great time and the Hilton Tapatio Cliffs is a great resort so the time and place should be right, but how about the schedule? It seems that the staff and the board have taken some of the challenges from recent events into consideration and made adjustments that I think will improve the experience for both institution and vendor attendees.
To begin they have bundled the Annual Meeting (budgets, strategies and planning for the association) with the Awards Luncheon which should give more of us the opportunity to participate. Traditionally it seemed to bookend the event which made it tough for those with travel or other constraints.
The campus tour, this year heading to Arizona State, has been moved to the end of the event so it will not disrupt the normal flow of the conference and will not force attendees to choose between the tour and other conference opportunities. I have always found the tours to be extremely valuable but with queues and bus rides you could count on a half-day commitment.
By holding the Sunday and Monday evening receptions earlier and moving the User Group Meetings to Monday during lunch, three evenings have been freed up to let vendors meet with customers and prospects or colleagues hang out without talking about ID cards. It will also offer a chance to go off property and actually see the area.
A four-hour block of dedicated exhibit hall time has been added on Tuesday, the number of educational sessions has been upped, and we will even have a golf tournament (Sunday morning before the event kicks off) to make us feel more like NACUBO members. The big evening event will be a western-style party on Wednesday at the close of the conference rather than the kick-off event held in other years.
What does it all mean? For many, it will mean staying an extra day making this a true four-day or even five-day event. But I do think that the time spent will be more productive as several of the ongoing complaints (e.g. lack of exhibit hall time, lack of open time for private meetings) seems to have been addressed. Personally, I commend the staff and the board for listening to the attendees and trying to rejigger the schedule. Certainly it won't all work perfectly and 'we' will find something to complain about … but I think this is a very good schedule.
See you in Phoenix, April 18-21.