QI readers bring USA Today papers to card carrying students on 70 campuses
USA Today, aided by a Dallas, Texas-based smart card company, is getting its newspapers into the hands of college students using the college's own campus card program. The QI controller and USA Today machines are currently in use on at least 70 campuses.
QI Systems Inc. developer of chip-based card payment and tracking solutions uses the campus card to control access to USA Today newspaper vending machines. Under USA Today's Collegiate Readership Program, the papers are provided free to students at participating campuses.
QI readers are used to verify that a valid student ID card is accessing the machines, said Rick Murray, QI's senior vice president and general manager from his Vancouver, Canada office. The company calls it a "low-power hybrid card reader and newspaper-box controller system."
"USA Today enters into a contract with universities for a subscription at a deeply-discounted rate to provide the newspapers to students," said Mr. Murray.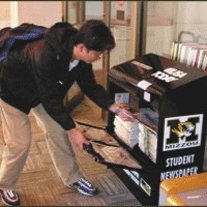 According to USA Today, Penn State University president Graham Spanier created the program in 1997 "as a way to ensure that his students were exposed to the world beyond the bricks and mortar of the campus. The program's success at Penn State…has since served as a model that is now replicated" at universities around the U.S.
QI supplies the controller that can read magnetic stripe or chip cards. "It can read tracks 1, 2 or 3," said Mr. Murray.
QI first developed the concept for USA Today's vending machines, said Mr. Murray, but "we're also open to providing this function to other newspapers … (via) the same machine."
"Back in 1996 during the Olympics, Visa started a stored value card program and we did a program with USA Today to accept (Visa) cards for payment," he added. The QI controllers were installed in USA Today newspaper machines at MARTA transit stations throughout metropolitan Atlanta. "A while later, USA Today developed a collegiate relationship and asked if we could provide the hardware. We agreed."
QI got its start in the smart card industry by developing smart card payment systems, said Mr. Murray. "We started out promoting to the banking community the stored value concept. We set ourselves the challenge of making our equipment reasonably simple to retrofit. However, the banking community didn't proceed with the deployment of stored value chip cards, so we became experts in an obsolete art."
The controller developed by QI will accept standard ISO 7816 cards, he said. "We also make payment terminals for unattended devices, such as vending machines, the USA Today machines, as well as payment terminals for parking.