Portland State students protest campus card banking service: What can we learn?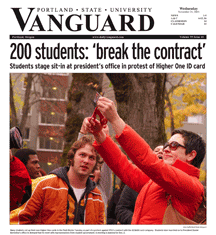 Students are once again protesting on campus, but this time it is not U.S. involvement in Vietnam or civil rights violations causing the uproar … it is a campus card banking partnership. Portland State University contracted with Higher One to add banking and financial aid delivery services to its campus card program. But a vocal group of students – led by representatives from the student government association – is trying to derail the program.
Student government representatives are upset that they were excluded from the decision making process undertaken by the PSU administration in selecting Higher One. Whether real or perceived, this slight has led to a host of complaints about the service offering and associated fees. Student protests have been ongoing and culminated with a mid-November walk-out from classes.
With the Higher One offering, the cards are produced off site and mailed to students. This is due, at least in part, to the fact that the cards must be produced in a secure facility as they are branded with the MasterCard logo. When the student receives the card, they are instructed to visit a web site to activate the ID. At that time, they are offered the option to sign up for Higher One banking services. In the case of the PSU program, they could also select another alternative for delivery of their financial aid – either by specifying another bank account to receive the funds or requesting a physical check to be cut.
Regardless of the individual's desire to use the Higher One service or not, each must visit the web site to activate the ID. This lets the campus card office and related systems know that the card was received by the student and should be accepted for the various on campus functions (e.g. meal plans, library patron identification, access control). Some of the more vehement protestors were calling for students to destroy their cards, thus making them useless for all functions – not just the banking functions.
The student government made available a cost comparison worksheet via its web site in an effort to show students that the new banking services were more costly than other local alternatives. The matrix showed the Higher One services to be 94% higher but the justification relied largely on two fees that many feel should not be considered in the equation.
First, the new service charges $3 per month if students require a printed statement via the mail. This adds $36 per year as compared to the other institutions that do not charge for printed statements. According to Sean Glass, VP of Marketing for Higher One, their account holders can access online statements 24 hours per day rather than wait on costly paper statements. "Of our 70,000 account holders across the country, less than 100 require paper statements." For students that have no access to the Internet, this is not the right account for them.
The second fee that helped to weigh down the cost comparison was a $0.50 fee for each pin-based debit transaction. When a debit card is used with a pin number, the merchant pays a flat fee rather than a percentage of the transaction. Pin-based debit has become less and less common as a standalone service and almost always is complemented by the more common signature-based debit. Still many merchants will encourage cardholders to use the card for pin-based transactions as it is cheaper for the merchant in many cases. Often, misleading questions such as "would you like to use this as debit or credit?" is asked. The uninformed user, knowing it to be a debit card, says debit and the merchant then asks them to enter their pin. In reality, there are very few occasions when a pin-based transaction is required and thus this fee should almost never be incurred by an education cardholder.
Removing these two line items from the analysis and the Higher One account compares favorably to the competition.
So what is the reality? According to the campus newspaper the Vanguard, just 200 people attended the walk-out protest. There are 26,000 students on the campus so this is obviously not an overwhelming portion of the student body. But the example does hold several valuable lessons for all financial institutions and campus card programs. First, go overboard in your efforts to involve the students and other organizations in your decision processes. The input can be helpful and it can always be vetoed … but it should never be ignored.
Second, educate students about the reality of the service offerings or you may find them coming to uninformed conclusions that can hurt your program.
Finally, make sure that it is clear that any service offering is opt-in rather than opt-out. Though the PSU banking service did require students to opt-in, many viewed it more as a de facto opt-out process because they were forced to activate the card online then select an option – either Higher One or another. Carefully word all your materials and critically review all processes to make sure that both perception and reality are on your side.
Stay tuned to CR80News for a more on the PSU card program controversy.
---
Additional resources: