Persona M30 printer delivers monochrome cards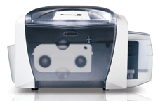 For those agencies, organizations and colleges looking to produce single color ID badges and cards, Fargo Electronics may have just the printer to meet your needs. The Minneapolis company has released its new Persona M30 single- and dual-sided monochrome card printer. It can print in one of seven colors and an optional magnetic stripe encoding module is available.
Direct-to-card technology prints sharp, clear text, graphics and bar codes
Minneapolis, MN–Fargo Electronics, Inc., a global leader in the development of secure technologies for identity card issuance systems, has launched the Persona M30 single- and dual-sided monochrome card printers. A monochrome version of Fargo's Persona C30, the M30 prints personalized plastic cards with single-color text, graphics, photos or bar codes, quickly and economically.
"The Persona M30 produces sharp monochrome printing in applications where single-colored cards or preprinted cards with monochrome variable text are needed," said Andy Vander Woude, Fargo Director of Product Marketing for Secure Printer/Encoders. "It's an affordable alternative for those applications where full-color printing is not necessary, but personalized cards can add efficiency, security or functionality."
The Persona M30 is perfect for card programs, such as:
–Loyalty programs
–Membership cards
–Banking applications
–Telecommunications
–K-12 schools
–Small business employee badges
–Visitor badges
–Parks and recreation
–Health care or insurance
–Casino cards
–Service bureau operations
Persona M30 Card Printer Features:
The Persona M30's easy-loading, all-in-one ribbon cartridge is available in seven colors: resin black, green, blue, red, white, silver and gold. The cartridge saves time and eliminates the mess and expense of torn, wasted ribbons. A card-cleaning roller is integrated into the ribbon cartridge, automatically changing the roller with every new ribbon installation.
An optional magnetic stripe encoding module is available for added functionality. The Persona M30 carries a two-year warranty.
Pricing:
The single-sided Persona M30 is available at a Manufacturer's Suggested Retail Price of $1695; the dual-sided model lists for $2695. The field-upgradeable magnetic stripe encoder retails for $599.
For more information on monochrome card printing with the Persona M30, visit www.buypersona.com/printer_detail.cfm?oid=5099.
About Fargo
Founded in 1974, Fargo Electronics is a global leader in the development of secure technologies for identity card issuance systems, including secure card printer/encoders, materials and software. The company has sold more than 120,000 systems in the U.S. and over 80 other countries worldwide. Fargo card issuance systems reduce vulnerabilities and potential for loss of time, money and lives by continually improving the security of identity credentials. Fargo provides physical, information, and transaction security for a wide variety of applications and industries, including government, corporate, national IDs, drivers' licenses, universities, schools and membership. Based in Minneapolis, Minnesota, USA, Fargo markets its products through a global distribution network of professional security integrators.