New student-designed ID card on hand for Kentucky university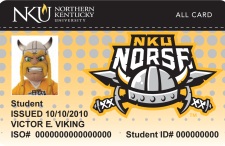 A new ID card designed by a student is now being distributed at Northern Kentucky University, Highland Heights. Last year, the school's Student Government Association held a contest for students to design the new All Card that incorporated university colors.
The contest, won by Andrew Stewart, a senior visual communication design major, included a $300 money prize donated by U.S. Bank. More than 42 designs were submitted by 26 students.
"The whole thing started about this time last year when Dustin Robinson, former SGA president, approached me with the idea of coming up with a student-designed ID card," said Ward Wenstrup, operations manager at All Card Administration. "I thought it was a great idea."
"I took note that the old All Card didn't say 'All Card' on it so that's something I decided was a good element to add to the card," Stewart said.
Another element added was the student identification number. Separate from an ISO number, the ID number is more like a Social Security number, said Wenstrup. He said its purpose is geared more towards financial aid needs.
Read more here.