New printer from Evolis works with Mac OS X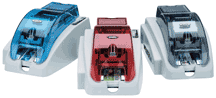 The new Pebble ID card printer from the French manufacturer, Evolis, is available with print drivers for Mac OS X. Traditionally, ID card printing has been a PC affair with Macintosh computers–for the most part–left on the sidelines. This has always seemed a bit ironic as many of the card designers and service bureaus have, and continue to, rely on Macs for the creation of the graphics and images used in the imaging process. The Pebble is compact, prints up to 140 full-color cards per hour, and comes in three "Mac-like" colors.
Print your plastic cards with Evolis
Angers, France, July 2004 – On the occasion of the next Apple Expo exhibition, Evolis Card Printer presents the New Pebble, the only color plastic card printer of its generation equipped with a printing driver compatible with Mac OS X. 
Thanks to the Evolis New Pebble color printer, printing on plastic cards (credit card format) is very easy, cost-effective and gives high quality results.
The New Pebble personalizes all types of cards and badges: business cards, student cards, loyalty cards, company badges, access control badges, leisure cards, and so much more. It is especially intended to be used by associations, Press, private professionals, clubs, advertising agencies, printing houses, event organisers, educational institutions.
Thanks to its color sublimation and monochrome thermal transfer technologies, the New Pebble prints your high resolution photos, images, logos, texts and barcodes. With a 140 cards/hour print speed in full color and up to 1000 cards/hour in monochrome, the New Pebble has one of the most excellent throughputs on the market.
Deliverd as standard with its driver for Mac OS X and compatible with any software on the market, the New Pebble is extremely easy-to-use and does not require any particular computer knowledge.
Design, compact and easy-to-use, the New Pebble is just as easily integrated on a reception desk as on your office desk! It is available in 3 colors: Ruby, Glacier, or Lagoon.
Evolis Card Printer is today the only manufacturer of plastic card printers that are compatible with Mac OS X thanks to a complete printing driver, and who also offers a complete 2 year warranty, print head included.
Meet Evolis at Apple Expo exhibition (Paris, France), from August 31 to Sept 4, Stand F18
About Evolis Card Printer
Evolis Card Printer, a leading plastic card printer manufacturer, supplies a complete range of cost-effective and innovative solutions. Hi-Tech, design and easy-to-use, the Evolis printers personalize your cards with high resolution texts, pictures, logos, barcodes and electronically encoded information in colour or monochrome. Situated in Angers, France, Evolis is represented in 80 countries with more than 16 000 printers delivered worldwide so far.