New Magicard Prima 2e offers ID card print quality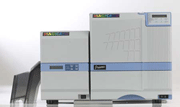 Ultra Electronics has introduced its updated Magicard Prima 2e printer for high-demand card printing applications that includes a new graphics driver, optional ethernet capability and a range of encoding options that support Philips' MIFARE, HID's iCLASS and Legic, among others.
The Magicard Prima 2e printer has been significantly updated to enhance its position as the leading reverse-transfer printer.
Reverse-transfer printing gives the best image quality, and is recommended for printing on contactless or dual-interface cards, where card surfaces may vary in flatness and/or composition.
New features of the Magicard Prima 2e include :
–New Graphical Driver.
–USB 2.0 now standard.
–Optional Ethernet.
–Wide range of add-on Encoding options – Philips Mifare, Desfire, Mifare ProX and i.code; HID iClass; Legic; Texas TagIT; and others.
–Batch printing with up to 7 printers (Prima 2e Network version).
–The Prima Inline Lamination Unit can be added.
The Magicard Prima 2e includes the UltraCoverPlus 2 year warranty with loaner (North America and EU only). This is unique to Magicard and is included with every Prima 2e printer. Other vendors charge over US$2000 or over ?2000 for the same warranty.
According to Ray Coles, Managing Director of Ultra Electronics Card Systems, "The Magicard Prima 2e is the professional's tool for high-demand card printing applications such as Government projects, Drivers Licenses, and Airport cards, or any other applications where the highest quality is required."
For further information, go to www.ultramagicard.com.
About Ultra Electronics
Ultra Electronics Card Systems is part of the international defense, aerospace and security group Ultra Electronics, with a worldwide workforce of 3,000 employees. Card Systems has been designing and manufacturing its Magicard range of secure ID Card Printers since 1993, and is now recognized as one of the world's leading manufacturers. The high technology Magicard printers are used in a wide variety of portrait ID and access control applications, and incorporate innovative HoloKoteä anti-counterfeiting technology, developed and patented by Ultra, which puts a watermark across the printed card surface.