Lumidigm technology securing campus recreation facilities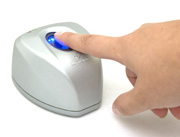 Lumidigm has announced it has provided its fingerprint imaging technology to secure the recreation facilities at Free Amsterdam University, a European college with roughly 8,000 faculty, staff and students. The school employed the new biometric solution to eliminate card pass-backs, a process that enables unauthorized people to gain access to the recreations facilities. The administration expects to break even on the system costs within 3 to 5 years.
The solution is provided by biometric integrator EasySecure and includes four desk systems for enrollment and seven biometric access control gates at the facility.