Kansas University ID cards get make-over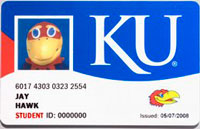 The new KU ID card prototype.
After ten years with the same look, Kansas University students are getting a new student ID card that now meets visual identity standards established by the school. Those standards include a university logo and type font consistent with other university materials.
Current students can exchange their old cards for a new one for free. They will be charged $15 if they do not have their old ID to exchange. However, the current ID card will still be valid at least for a year.
The KU Card Center collaborated with Commerce Bank and a Kansas City, Mo. marketing firm to develop the card's new design. The cards are being introduced at the first new student orientation this week and all incoming freshmen will receive the new card.
Read more here.