ISU use Blue Bucks to give students better dining options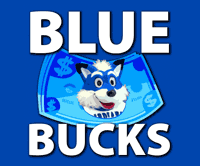 Indiana State University announced that students can now use Blue Bucks to take advantage of off-campus restaurants, giving students better options and a more flexible schedule of when and where they can eat, reports the Indiana Statesman.
Once the on-campus dining halls are closed for the night students can use their Blue Bucks, a new form of currency adopted by the ISU Dining Services, which give students the option to use money put into a prepaid account linked to their ISU student ID card.
Students can use Blue Bucks to buy pizza, coffee, hamburgers and fries from local participating restaurants. While the current participation list includes mostly local vendors, school officials hope to have commercial chains on the bandwagon as the program becomes more accepted by its students.
Off-campus restaurants, that have signed up to participate so far include Roly Poly, Saratoga, Coffee Grounds, Pizza City, and 7th & Elm Bar and Grille – most of which are within walking distance of the campus.
To read more click here.