Illinois Institute of Technology deploy all-in-one ID card system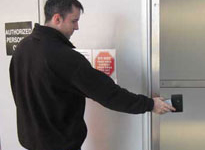 The Illinois Institute of Technology has adopted CBORD Group's suite of security and access control technologies.
Specifically, the institute has implemented CBORD's CS Access, integrated with Odyssey PCS campus card systems to streamline assignment processes and campus life.
The Odyssey PCS system, a Windows-based system, integrates all campus activities into a single card – cashless payments, facility access, network printing, and more. Using a variety of network and data interfaces the Odyssey PCS system can be easily integrated into pre-existing third party applications within bookstore's point of sale systems, facility access systems and human resources systems.
Using CBORD Group's Odyssey system, when a residential assignment is made, the corresponding systems are automatically updated, granting access privileges and assigning schedules without any intervention from staff, allowing quick assignment processes and minimal risk of human error.