Hosted SaaS software model reduces campus investment for card programs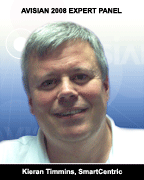 Kieran Timmins,
President and CEO,
SmartCentric Technologies International
In 2007, smart card use and acceptance in the U.S. was on the rise. Using contactless smart card technology for payments and physical and logical access became a solution that many campus institutions, both academic and corporate, embraced. With the continued demand and deployment of multi-application smart cards, vendors are finding ways to allow colleges and enterprises to get the increased benefits of smart cards without the costs traditionally associated with them.
The most important development for 2008 will be the increased number of smart card systems deployed as hosted models. Until now campuses had to install and maintain their own back office system which consisted of numerous components and allocation of resources. Now with the arrival of Software as a Service (SaaS) systems, such as that offered by SmartCity®, a campus can access hosted applications securely over the internet, which allows it to get up and running simply, quickly and with minimal hardware requirements and up-front investment. (See the article here for more on SaaS.)
The SaaS model has appeal to all schools that want the benefits of smart card systems but are feeling the budgetary pressure on limited resources. Individual faculties may also wish to use a smart card based logical access system without involving the whole campus. One school or department can go live within weeks with a solution for its particular needs, while another department can access totally different services. This offers choice and flexibility, and allows new applications to be added easily.
At SmartCentric, we installed our first hosted system in 2007 and are seeing great demand for SaaS based card systems as we move into 2008. The SaaS model allows a campus the opportunity to experience using smart cards, without replacing a whole campus card system. Whether using one or many applications, our system is flexible and allows for expansion without the need for re-carding. Applications can be added via the web to existing smart cards.
In the past, providers offering hosted services needed separate servers and software for each customer or tenant, as well as costly network access services. Now, thanks to the bandwidth offered over the internet, availability of internet-based applications, and advanced firewall technology, it is now possible for multiple tenants to reside on a single server without concerns for security or protection of data. As a result, the SaaS model allows more users access to hosted applications at reduced costs.
At SmartCentric we see the addition of hosted services as extremely important for the increase in the use of smart card systems on campus. Our own multi-application system, SmartCity®, offers a wide range of e-purse payment and other applications including logical access, password wallet, physical access, meal plans, parking and e-ticketing. Offering applications such as these via a SaaS model allows card systems to be easily and quickly deployed, with minimal up-front cost and infrastructure investment.
---
About the AVISIAN Publishing Expert Panel
At the close of each year, AVISIAN Publishing's editorial team selects a group of key leaders from various sectors of the ID technology market to serve as Expert Panelists. Each individual is asked to share their unique insight into what lies ahead. During the month of December, these panelist's predictions are published daily at the appropriate title within the AVISIAN suite of ID technology publications: SecureIDNews.com, ContactlessNews.com, CR80News.com, RFIDNews.org, FIPS201.com, NFCNews.com, ThirdFactor.com, and DigitalIDNews.com.