Hiram College chooses CBORD for campus card platform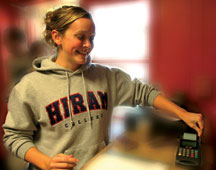 Hiram College tasked its foodservice provider Sodexho with finding a replacement to the school's outdated campus card system. The group chose the Microsoft® Windows®-based Odyssey PCS offering from CBORD. "The user interface makes it easy for different areas of the school to interact with the system efficiently," says the campus' dining GM, Jack Cahill. "This includes the business office, where people can make deposits to their accounts, as well as the safety office. If a card is lost or stolen, the user interface helps us issue a new card immediately, complete with a new card number."
Hiram College enjoys user-friendly Odyssey PCS™ from CBORD®
Hiram College, Ithaca, New York: When Hiram College needed a way to modernize its campus card technology and improve its ease-of-use, the school turned to Odyssey PCS™ from CBORD®. After 13 years of using another system, the school recently tasked its foodservice contractor, Sodexho®, with purchasing a new system.
"CBORD is Sodexho's preferred supplier for campus card systems," says Jack Cahill, General Manager, Sodexho Campus Dining Services at Hiram College. "When the contract with the previous card supplier was up, we looked at CBORD right away."
According to Cahill, one of the biggest advantages of Odyssey PCS is its ease-of-use.
"The biggest difference between CBORD and our previous system is how much more user-friendly the CBORD system is. It is Microsoft® Windows®-based, which makes it easy to pull up whatever information we need, whether it is reports, patron histories, or other things of that nature."
Adds Samuel Adams, Computer System Analyst at Hiram: "Our previous system was on a Unix® platform, which was getting pretty outdated. The technology from CBORD is much more modern."
Odyssey PCS's user interface is beneficial to many departments across campus. "The user interface makes it easy for different areas of the school to interact with the system efficiently," says Cahill. "This includes the business office, where people can make deposits to their accounts, as well as the safety office. If a card is lost or stolen, the user interface helps us issue a new card immediately, complete with a new card number."
"Hiram's Odyssey PCS implementation is a great example of how the system conforms to meet the needs of individual campuses," says Randy Eckels, Senior Vice President, Sales and Marketing, The CBORD Group, Inc. "Hiram needed updated technology that could easily be configured to provide targeted information to various areas of operation. Odyssey PCS's flexibility makes it a leader in this area, and we are glad to count Hiram College amongst its users."
About The CBORD Group, Inc.
The CBORD Group serves colleges and universities, corporations, healthcare facilities, chain restaurants, supermarkets, and a host of other market segments. CBORD's products are used in ID card privilege control, access control, cashless dining, housing services, online ordering, foodservice management, nutrition services, catering, and other institution-wide activities. The CBORD Group serves more than 5,000 clients in the U.S., Canada, Europe, South Africa, the Middle East, New Zealand, and Australia.
The CBORD Group was founded in 1975. Today it employs more than 460 professionals. To learn more, visit us at www.cbord.com.