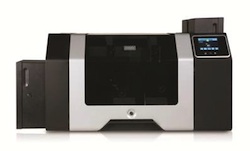 HID Global announced it has expanded its card personalization portfolio with the introduction of its FARGO HDP8500 Industrial Card Printer/Encoder, a secure printing/encoding solution, at CARTES & IDentification 2011 in Paris, France.
Featuring the company's fifth generation High Definition Printing technology, the new printer/encoder is a card personalization and issuance solution for government ID card programs, laborious service bureaus conditions, universities and large enterprises.
The FARGO HDP8500 printer/encoder includes a 400-card total input capacity. This, combined with a graphical touch screen user interface, helps minimize operator intervention and maximize card yield per shift.
The HDP8500 is built using solid metal cabinetry with interior components designed to provide greater resistance to parts fatigue. For operational and issuance security, the printer has been architected for use within the HID Global Trusted Identity Platform ecosystem, enabling it to process and generate Secure Identity Objects for enhanced system security and authentication where citizen privacy in government ID card projects and heightened security in other card programs is a necessity.
The printer includes a set of additional security features such as operator PIN number access and multi-locking entry points for secure printing, AES 256 bit data encryption and resin ribbon data-erase functionality and secure holographic lamination for lasting protection from fraud.
Additional Product Details:
Dual, auto-switching 200-card input hoppers provide 400-card total input capacity, producing 1200 cards per shift; requires less user intervention during continuous card runs
Industrial air filtration system ensures a stable printing environment even in harsh conditions
HID Global's fifth generation High Definition Printing engine prints on a variety of card materials and sizes; prints crisp, high definition, over-the-edge images on technology cards
High durable holographic HDP consumables
Scalability with modular, field-upgradeable options
Three-year warranty