HID to unveil 'genuine' line at ASIS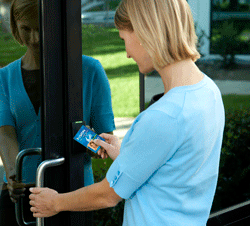 HID Global will announce the launch of Genuine HID at the ASIS International Conference being held from Sept. 21 – 24 at the Anaheim Convention Center in Anaheim, Calif. Genuine HID covers a set of customer benefits associated with Genuine HID products, the introduction of a new Genuine HID Technology trademark to identify third-party products deploying HID technology and the launch of the Advantage HID Channel Partner program.
With Genuine HID, customers can benefit from a product line of security solutions, and a lifetime warranty.
Genuine HID products include:
Card-to-reader compatibility – Genuine HID products are able to read HID data formats for ensuring card-to-reader interoperability in multi-location installations and multi-card/reader populations.

Prox to smart card migration – From multiple technologies on a single card to readers that accept diverse card populations, Genuine HID provides solutions for transitioning from low-frequency prox to high-frequency smart card technology.

Broad product line – Genuine HID's extensive product line includes an array of readers and card technologies for securing any combination of physical and logical assets while offering multi-factor authentication for additional layers of security.

Lifetime warranty – Genuine HID products are designed and tested to stringent specifications for durability and are manufactured under the high-quality standards.

Global certifications – Genuine HID products are certified in the region of origin as well as in all major world markets to guarantee certification for customers with facilities in various locations around the globe.
In addition, the new "Genuine HID Technology" trademark enables customers to quickly identify third-party products that are manufactured using HID technology.
The Advantage HID Channel Partner program makes certain that Genuine HID products are used through the HID supply chain by channel partners that have long made customer satisfaction a priority. Accordingly, the program provides recognition, incentives and relationship-based benefits to a group of select OEM's, distributors, integrators/dealers and resellers with good track records in delivery and customer service.