HID Global launches newest card personalization software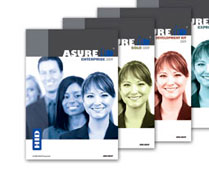 Secure identity provider HID Global has rolled out its latest card personalization software, Asure ID 2009, that features an intuitive user interface and incorporates user-tested tools that make ID card design, data entry and data management easy for any type of user. In addition, Asure ID 2009 comes with an underlying software architecture built on the Microsoft .NET technology platform.
Other features of Asure ID 2009 include iDIRECTOR, which improves smart card deployment by managing how applications are loaded onto cards in a single encoding pass; a new Live Link wizard that demystifies how connections are made to external data sources; a configurable data entry center that allows greater control when entering individual data or groups of records; simplified processes for capturing and importing photos and signatures; and the ability to preview the finished design prior to printing.
Asure ID 2009 is available in four editions, with increasing functionality: The entry-level Solo edition that provides simplified processes for card design; the Express version with advanced card design features; the Enterprise edition that's networkable and shares a common database; and the Exchange edition that includes the iDIRECTOR encoding and management module.
Asure ID 2009 software will start shipping Nov. 13. A 30-day trial version will be available from HID Global's Web site on the same date.