Heartland signs up 15 more higher education institutions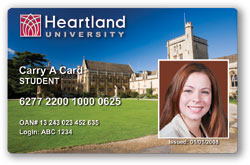 Heartland Payment Systems has added 15 more colleges, universities and community colleges to its Campus OneCard campus management system.
The OneCard System provides students with a contactless or magnetic stripe campus ID card which can serve as a prepaid card that works like cash. OneCard also features other capabilities related to security and housing access; dining, vending and laundry; bookstore and library management; and print and copy management.
In addition, the Campus OneCard also features Android and Apple iOS mobile applications that enable students and administrators to use their smart phones or mobile devices for on-campus purchases, to access OneCard account information, and to manage the OneCard System.
With a combined enrollment of more than 106,000 students, Heartland's new schools include:
College of Mount Saint Vincent, Dutchess Community College, Monroe College and Marist College, all in New York; Hagerstown Community College, Maryland; Northeast Lakeview College, Northwest Vista College, Palo Alto College, St. Philip's College and San Antonio College, all in Texas; Southern Polytechnic State University, Georgia; Trevecca Nazarene University, Tennessee; University of the Sciences and Waynesburg University, Pennsylvania; and Northwestern State University of Louisiana.