Heartland releases new campus card terminal for existing PCs and smart phones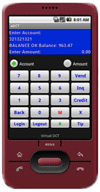 Heartland Campus Solutions' new virtual data collection terminal (vDCT) allows campuses to conduct activity verification, meal plans and financial transactions using existing devices such as PCs and mobile phones. In the past, Heartland clients utilized a hardware-based data collection terminal for these functions.
The software-based vDCT can be loaded to an existing office desktop or laptop computer to process transactions using an attached USB card reader. Any office on campus can now accept the ID card for payment or privilege control without purchasing specialized hardware terminals.
The vDCT can also be loaded on smart phones such as the Android or iPhone to enable card acceptance over wireless or mobile networks. Use as a mobile application facilitates payments for merchants in delivery situations, concession stand sales, or outdoor events.
Mike Quinn, Dominican College, Orangeburg, NY, has deployed the vDCT with a number of the school's merchants and vendors. "It was a very easy install and the vendor loves it because it takes up no real estate," said Quinn.
Another Heartland client using the new solution is Emory University in Atlanta. The campus is using the vDCT at a food service location where it's running on a standalone laptop. "We also use it on two laptops with a wireless connection for student organizations to check out and collect money for different functions and events," says William T. Watkins, EmoryCard Office. "It's a great program because there is no hardware."