Heartland enables campus card value adds at laundry and copy terminals with uDeposit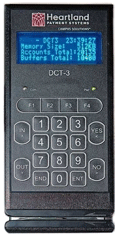 Heartland Campus Solutions released uDeposit, an add-on module for laundry and copy terminals that lets cardholders add funds to their Campus OneCard account using a bank card at the unattended terminal. This will help cardholders who are low on funds to finish the tasks at hand without breaking to find a value transfer station. They simply press the deposit key right on the laundry or copier terminal, swipe their credit card and add funds to their OneCard.
uDeposit makes deposits more convenient for cardholders and it reduces the need for dedicated deposit machines that require staff to remove and reconcile cash deposits.
It was added based upon client desires to have a more convenient way for students to add funds without the need for additional deposit machines, explains Fred Emery, VP and General Manager, Heartland Campus Solutions.
The company recognized that students in the midst of doing laundry may need to add funds, and it is not always convenient to go find a deposit machine or return to their room to make a web deposit. It seemed like a natural addition to the product offering to be able to add funds directly at the terminal, says Emery.