Glenn Bottomly joins Fargo as ID software leader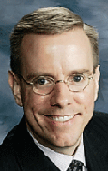 Aiming to strengthen its end-user focus, Fargo Electronics has hired Dr. Glenn Bottomly as director of product marketing for ID software and systems. He comes from Lifetouch Publishing, where he served in various positions including marketing, manufacturing and management. He also holds a patent for the development of proprietary publishing software.
Minneapolis, MN–Fargo Electronics, Inc., a global leader in secure technologies for ID card systems, announced that Glenn Bottomly, Ph.D. has joined Fargo as director of product marketing for ID software and systems. Bottomly brings 15 years of software management and development experience to his new position.
"Among Glenn's strengths is his ability to understand the software user at an intuitive level," said Kathleen Phillips, Executive Vice President of Sales and Marketing for Fargo. "Strengthening our ID software portfolio is part of our commitment to providing complete, easy-to-use solutions for our customers. Glenn's talent and experience will be invaluable assets in developing more robust software and complete systems."
Prior to joining Fargo, Bottomly spent 10 years at Lifetouch Publishing, with positions in marketing, manufacturing and management. He earned a Bachelor's degree in marketing and speech communications and a Master's degree in marketing and strategic management from the University of Minnesota, and a doctorate in applied management and decision sciences from Walden University. He holds a U.S. patent for the development of proprietary publishing software.
"Fargo is in a unique position to leverage customer feedback from its traditional product lines of printers and materials to develop intuitive end-to-end software solutions," said Bottomly. "Expanding our software offerings will make Fargo a more attractive solution provider overall."
About Fargo
Founded in 1974, Fargo Electronics is a global leader in the development of secure technologies for identity card issuance systems, including secure card printer/encoders, materials and software. Fargo provides physical, information and transaction security for a wide variety of applications and industries, including government, corporate, national IDs, drivers' licenses, universities, schools and membership.
Fargo is part of HID Global, a leading supplier and manufacturer in the access control industry. HID Global is a member of the ASSA ABLOY family of companies.
Based in Minneapolis, Minnesota, USA, Fargo markets its products through a global distribution network of professional security integrators. For more information about Fargo, visit www.fargo.com.