Fujitsu PalmEntry system bolsters campus security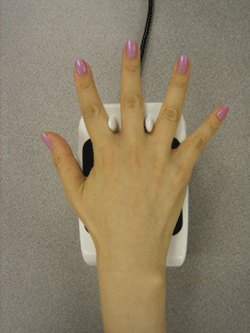 Lincroft, New Jersey's Oak Hill Academy has installed the Fujitsu PalmEntry access control system at access points across its 20-acre campus. Oak Hill Academy administrators chose the PalmEntry solution for its dependable, non-intrusive biometrics technology. The academy currently registers its fifth through eighth grade students in the PalmEntry system along with all faculty and staff.
The PalmEntry system leverages Fujitsu's PalmSecure biometric technology and biometric palm vein sensors with near-infrared light to capture students' palm vein pattern. These patterns are then used to generate a biometric template that can be matched against the palm vein patterns of pre-registered users.
Unlike other biometric readers, the PalmSecure device does not come into direct contact with the skin, making it extremely hygienic, non-intrusive and unaffected by external factors such as skin conditions and types. Registration into the PalmEntry system takes less than one minute, with authentication taking less than one second.
The palm vein device can only recognize the pattern if blood is actively flowing within the individual's veins, making forgery is nearly impossible. This advanced, vascular pattern recognition technology provides highly reliable authentication with low false accept and reject rates.
Oak Hill has some 400 students, faculty and staff on campus according to Joseph Pacelli, founder and headmaster at Oak Hill. The system has been met with relatively open arms, prompting Pacelli and his staff to consider system expansion down the road.
"The opt-in rate of the technology is higher than expected," says Pacelli. "As our enrollment increases over the next 12 months and we become more accustomed to the technology, we will consider installing additional PalmEntry units."