Flexible lockdown options address campus security challenges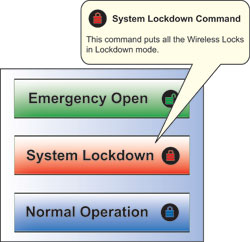 Kaba Access Control, Winston-Salem, N.C., has incorporated multiple lockdown options in its E-Plex Wireless Access Control System enabling users to centrally manage lock commands such as remote unlock, passage and emergency lock-down.
"We designed the E-Plex Wireless System with emergency commands to help organizations deal with readiness and response in the event of a threat or crisis," said Rick Shuford, Kaba product trainer. "Kaba's System Lockdown provides security directors, facility managers and staff the flexibility to address immediate needs when they occur on campus."
The system's lockdown choices include global, door group or single door lockdown. In addition, a lockdown can be executed right at a door, providing instantaneous security.
The E-Plex Wireless System requires no wires, conduit runs, access panels, or trenching/drilling. Entire properties, even remote buildings, can be joined to the E-Plex system.