Fingerprint Biometrics, The Evolution of a Revolution

A panel of ID industry experts provided predictions for 2006. One of these glimpses into the future will appear here each day during December.
By Ron May, UPEK, Inc.
Our high tech graveyards are littered with the bones of great ideas. For over a decade, VC dollars rained down onto solutions for which there was never any real problem, or ideas that offered too little too late. Barren for years, these fields are starting to sprout once again. One technology that's not only gone to seed but is now thriving and has succeeded in crossing the threshold from "What is it?" to "Will it work?" to "Where's mine?" is fingerprint biometrics.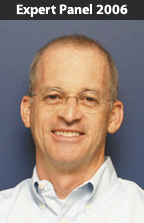 Since "2001: A Space Odyssey," we've experienced and accepted (at least on screen) the notion of either accessing a secure place or protecting our identity with the earliest forms of what is now recognized as two factor authentication: what we know and who we are. By using some part of ourselves that is unique to each of us, such as speech patterns, iris configurations, and palm or finger prints, we can both access and protect our most critical digital data.
Enter the fingerprint reader, coming soon not just to any finger near you, but most likely yours. In less than two years, fingerprint readers have become standard fare on anything that's portable, small and deadly in the wrong hands, like your USB flash drive, notebook computer, or portable hard drive. Four of the five major notebook computer manufacturers now offer embedded fingerprint readers. UPEK, Inc., an Emeryville, California-based provider of silicon fingerprint biometric solutions, was recently named by the World Economic Forum (WEF) as one of 36 Technology Pioneers for 2006. The awards were presented for coming up with a technology that the WEF states must "have potential for a long-term impact on business and society."
It does, and it will. As the challenges that never really faced a brick and mortar, pen on paper world continue to stymie and confound us, the innovators will continue to see these potential problems not as challenges at all, but as opportunities to tie together seemingly unrelated factors and turn them into not only a viable business opportunity for themselves, but a real solution to a real problem for the rest of us, no matter where or how we live.
---
Visit UPEK on the web at www.upek.com.