Financial uncertainty fosters opportunity for campus cards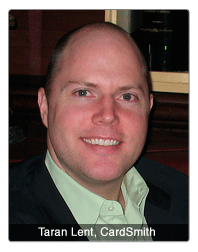 By Taran Lent, vice president, product development and co-founder, CardSmith
Unprecedented strains in the U.S. financial system and economy are putting serious money pressures on colleges and universities. These pressures did not exist as recently as one year ago. Endowments are down, costs are up, and financing for education is in crisis. The turmoil in financial markets has hit quickly and hard. Its impacts are likely to be felt well into 2009, 2010, and possibly beyond.
As we look forward to next year, I believe it will be imperative for institutions and senior administrators to comprehensively review all departments and operations in an effort to achieve maximum cost effectiveness and operating efficiency.
The total cost of self-operating an in-house campus card system is already high and climbing. The past several years have seen significant increases in the cost of software licenses, required system upgrades and interface fees. This cost trajectory is putting additional pressure on already strained operating budgets. At the same time, staffing requirements and costs have also increased significantly, as the scope and complexity of card programs has expanded.
It is common for well-developed campus card programs to require three to five employees and annual operating budgets of a million dollars or more.
In response, industry suppliers and vendors need to offer innovative solutions to ease the cost and complexity of running card programs. Fortunately payments processing technologies and management methods have evolved, creating much-needed alternatives to buying, implementing and self-managing a traditional campus card system.
Software as a service, remote hosting, multi-school collaboration/sharing, open-source software and even complete program outsourcing are now commercially proven options. The cost savings of managed services are very real and are an imperative for any institution seeking operating efficiency while at the same time enhancing student services.
In this context, my predictions for 2009 are:
The global economic crisis will continue to pressure endowments, enrollments and budgets, forcing spending cuts.

Administrators will need to aggressively re-evaluate and reform capital and labor-intensive service models.

Reliance on high-cost proprietary software, hardware and systems will be scrutinized and will eventually succumb to low cost, community-based, and open-source solutions.

Outsourcing campus card operations will become a crucial strategy to control and reduce costs.

Internet-based software will make it easier and more affordable for schools to centrally deploy, host and scale applications directly or in concert with professional service providers.

Student access to credit will diminish severely, increasing the need for financial support from home and making pre-paid campus card accounts and their inherent budgeting control more popular than ever.

Focus on cost control will overshadow technology and feature enhancements.

Neighboring schools and consortia will aggressively seek new and innovative ways to collaborate and share costs.
Since their inception, campus card programs have brought meaningful operating efficiencies to educational institutions by eliminating cash handling, reducing labor costs, consolidating reporting, increasing security and more. While financial instability creates uncertainty and change, it also fosters opportunity for those that can innovate and creatively navigate the pitfalls of the status quo.
The next big milestone in the campus card industry is that it discovers the cost efficiencies and service improvements made possible by a new generation of web-enabled technologies and business models. As such, 2009 promises to be another challenging year for the campus card industry on multiple fronts.
---
About the AVISIAN Publishing Expert Panel
At the close of each year, AVISIAN Publishing's editorial team selects a group of key leaders from various sectors of the ID technology market to serve as Expert Panelists. Each individual is asked to share their unique insight into what lies ahead. During the month of December, these panelist's predictions are published daily at the appropriate title within the AVISIAN suite of ID technology publications: SecureIDNews.com, ContactlessNews.com, CR80News.com, RFIDNews.org, FIPS201.com, NFCNews.com, ThirdFactor.com, and DigitalIDNews.com.