Episode 7: Are data matrix barcodes the next big thing for the mobile phone?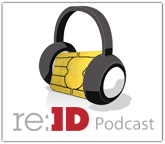 One of the oldest identification technologies, barcodes, are still creating a buzz today. This time though instead of having a dedicated reader, companies are creating software that enables your phone's digital camera to function as the reader. Contributing editor Ryan Kline talks with Dennis Hettema of ShotCode and John Bulkeley of ScanBuy.
http://www.secureidnews.com/podcasts/ for older podcasts.
Please contact [email protected] with any comments or suggestions.