Episode 20: Efforts underway to standardize campus identity cards across Europe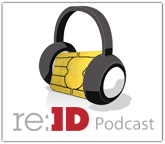 Eugene McKenna, Waterford Institute of Technology, spoke with re:ID podcast host Chris Corum about the efforts underway to develop standards for campus card programs across Europe. The European Union is currently considering a proposal to provide funding for the project, which is being called the European Education Connectivity Solution. Other topics include the differences and similarities between campus identity programs in the U.S. and Europe as well as the vendor landscape for the European market.
http://www.secureidnews.com/podcasts for older podcasts.