Episode 14: Looking into the secure login using Yubikey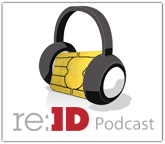 Yubico CEO and founder Stina Ehrensvärd talks with host Ryan Kline about the Yubikey, a new authentication solution, designed for web 2.0 applications. It works by having the user insert it in any computer with a USB port on any platform or browser without having to install any client software. The user then presses the YubiKey button to generate a one time passcode. Listen as they discuss topics about the Yubikey such as cost, implementations and the open source nature of the device.
http://www.secureidnews.com/podcasts for older podcasts.