Enhanced campus security will call for more integration with campus card programs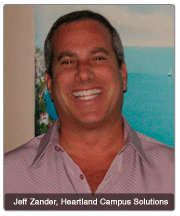 By Jeff Zander, vice president of sales and international business, Heartland Payment Systems Campus Solutions
Safety will always be a top priority for campus administrators, with concerns ranging from health issues to campus security. In light of heightened security concerns in recent times, new federal regulations have been passed to deal with campus' emergency response, fire safety and missing student procedures. This will lead to even greater emphasis on campus security in 2010, and we'll see more integration of campus card systems to further campus security initiatives.
Campus Card Integration
We'll see a growing need for modules in campus card systems to manage, control and enhance health safety efforts. With the H1N1 virus lurking on campuses, administrators will continue going to great lengths to avoid and suppress outbreaks among students this semester–and in the years to come.
Some campuses have already discovered new ways to utilize their campus card systems to mange H1N1 vaccinations and cases on campus. The University of Alberta (Edmonton, Alberta, Canada) uses Heartland's OneCard Verify ― a flexible module that can be used for account validation ― to track, control and administer the flu and H1N1 vaccine. Programs like this will continue to play a vital role in health safety campus wide.
Innovative technology solutions will amplify collaboration between campus card offices and campus police departments, facilitating rapid notification of safety alerts to the campus community. We'll see more advanced functions of the campus card system playing a larger role in improving campus security in the coming year. For example, mass notification systems–such as Heartland's OneCard Notify–will spread to more campuses, allowing administrators to quickly alert their communities of emergency situations via email, text message, terminal messages and alert beacons. Along with rapid notification, we'll see campuses taking more extensive measures to advance their security efforts in 2010.
Enhanced Security
While ID cards with mag stripes are used as a primary payment method around campus, some administrators fear using mag stripe cards for access control. A major concern is duplication, which could grant unauthorized individuals access to restricted buildings and facilities.
Taking this into consideration, we'll most likely see a greater demand for contactless readers at points of access in the near future. Using contactless smart cards for access control alleviates some of the vulnerabilities associated with mag stripes by performing advanced functions such as key encryption. Using a private key eliminates the possibility of sensitive data being revealed during transmissions. Not only will we see more of this technology utilized on campus in 2010, but also the emergence of more sophisticated access systems that utilize biometrics.
As the need for more reliable security arises, fingerprint technology will most likely set a new precedent in access control as the future of campus security. Using this technology in conjunction with a campus card system provides an additional layer of security to protect students, faculty and staff. We'll certainly see a more comprehensive approach to campus security as the products and technologies continue to become more innovative, efficient and effective.
---
About the AVISIAN Publishing Expert Panel
At the close of each year, AVISIAN Publishing's editorial team selects a group of key leaders from various sectors of the ID technology market to serve as Expert Panelists. Each individual is asked to share their unique insight into what lies ahead. During the month of December, these panelist's predictions are published daily at the appropriate title within the AVISIAN suite of ID technology publications: SecureIDNews.com, ContactlessNews.com,CR80News.com, RFIDNews.org, FIPS201.com, NFCNews.com, ThirdFactor.com, and DigitalIDNews.com.