Datacard Group's limited edition card printer to support the fight against breast cancer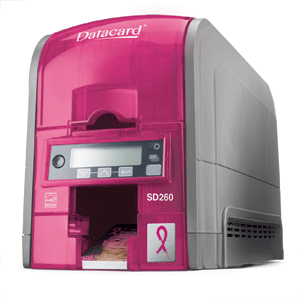 To support the fight against breast cancer, Datacard Group, a secure ID and card personalization solution provider, is introducing a limited edition pink Datacard SD260 Card Printer.
The pink printer will be available for purchase from October 2011 to March 2012 as supplies last. Datacard will donate a portion of the proceeds from each printer sold to the Pink Ribbon Foundation. This foundation funds projects and supports charities around the world that help people who suffer from or are affected by breast cancer.
The Datacard 260 printer can print and personalize several types of personalized ID cards and badges. Its specially-engineered pink cover shows the support of breast cancer awareness.
Datacard will show this limited edition printer at several upcoming conferences and expos, including GITEX Technology Week in Dubai in October and Cartes & IDentification in Paris in November.