'Cutting the wires' and promoting self-service in 2005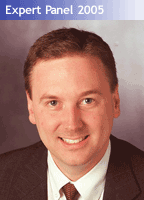 A panel of ID industry experts provided predictions for 2005. One of these glimpses into the future will appear here each day during December.
by John Diaz, Sequoia Retails Systems, Inc.
In 2005, demand will accelerate for products and services that securely provide access to campus card services whenever and wherever the cardholder needs them.
Facilitated by both the proliferation of wireless network connectivity on campus and several innovative software and hardware products now available in the marketplace, portable card reader solutions will replace many of the hard-wired terminals that institutions have regularly used for athletic events, picnics, sidewalk sales and other remote events.
Utilization of these new devices will save countless hours that campus card technicians and administrators previously spent setting up equipment for special events, as well as reduce the investment often made in wiring data and power outlets at limited locations across campus. By cutting the wires, the campus card program will be free to roam to remote areas of campus (and potentially beyond), thereby further expanding the use of the program. This increased utilization will further leverage the investment each institution has made in their campus card program and lead to new opportunities to collect revenue and lower operating expenses.
Another trend that we will see in the upcoming year is an increased demand for self-service applications that process payments for goods and services on campus. In looking at the general marketplace, we now see self-service stations at most grocery stores, movie-theaters, parking garages, and airports. Consumers now expect to be able to do things for themselves, not only via the Internet, but also at the point-of-purchase. To meet these expectations, colleges, universities and other institutions will be compelled to offer new and improved service options for their students, faculty staff and other affiliates. As a result, self-service solutions including kiosks and on-line payments systems in areas such as food services, event ticketing and parking will be in high demand this year.
Finally, the expansion of the campus card program beyond the controlled environment of cashiers and hard-wired terminals will put further emphasis on the need to secure cardholder information. Both solution providers and end users will be expected to do everything possible to ensure that the data they collect, store and transmit is kept private. When choosing a system or solution provider, institutions must ensure that the product they choose meets the information security requirements of not only their own campus, but also that of regulations put in place by governmental entities and outside service providers.
About the author:
John H. Diaz
Product Manager
Sequoia Retail Systems, Inc.
700 Blue Ridge Road, Suite 104
Raleigh, NC 27606
Tel: 800-818-5018 x102
Email: [email protected]
http://www.sequoiars.com