Contactless ready to make its mark on college campuses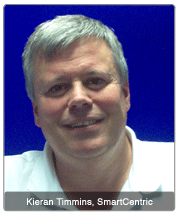 Part of the AVISIAN Publishing Expert Panel series to be published throughout December 2006
Kieran J. Timmins, Chief Executive Officer, SmartCentric Technologies International Ltd.
Although the advantages of a highly secure card for multiple applications on a single platform were obvious, for many the perceived costs of implementing a smart card system outweighed such advantages. In 2006 there was still a lot of misinformation and misperceptions about smart card systems versus magnetic stripe and even proximity. We still see two basic arguments being put forward against smart cards:
Online magnetic stripe systems provide sufficient security; and
Cost, complexity, 100% offline operation and support of systems into the future are common misconceptions.
In 2007 we will finally see these arguments addressed with increasing deployment of contactless card technologies: technologies that allow you to have smart cards without the cost.
While U.S banks have to date lagged behind their European, Latin American and Asian counterparts, they are increasingly involved in trials with contactless technologies. The U.S. government has chosen to implement smart card technologies for most of its security systems, even passports. Such deployments and increased use will ensure that the cost of contactless technologies will continue to remain competitive.
In addition to offering a cost effective solution for card programs, contactless smart cards offer the end user not only security, but also speed and convenience. A tap of a card on a reader can allow a cardholder to pay for meals, buy a book, enter a secured area or log on to a computer network. For areas requiring higher security, biometrics can be added to ensure higher levels of authentication for restricted access, in other words, a single secured card offering multiple applications.
Gone is the "all or nothing" approach which was needed to make the business case work for smart cards. In 2007, the cost of contactless technologies will allow campuses and businesses to deploy a smart card for a single application or in combination with other card types. Utilizing Web Portals, smart card applications can be added in the future as needed without the need or expense of re-carding
As the market moves towards contactless cards, it will be important to offer customers a simple migration path for existing contact chip, proximity, and magnetic stripe applications. This reduces the impact and the costs, offering the best solutions to accommodate many different environments. Some customers may like to use contactless chip cards for physical access and small purchases, but may still prefer to use contact cards for biometric logical access, and their existing magnetic stripe access application for some buildings, or even a meal plan.
Changing over to smart card systems does not have to be complex or expensive and can be phased to suit requirements and budget. As smart card systems continue to advance and deliver value using contactless cards able to support a wide range of applications simultaneously, user uptake will increase and the result will be positive for the card issuers and cardholders alike.
SmartCentric in early 2007 will introduce the next generation of SmartCity supporting contactless technologies, TCP/IP and WiFi technology integrated into card readers and devices to allow for remote / online data collection, Web portals and an easy migration path. The year 2007 is indeed going to be one where smart cards make their mark, but without the cost.