Community Colleges to Increase Campus Card Adoption in 2010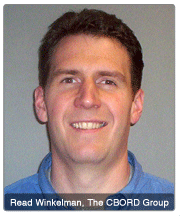 By Read Winkelman, vice president of sales, The CBORD Group Inc.
As campus cards become increasingly ingrained in campus life, as we have seen over the last several decades, their reach will continue to extend beyond traditional four-year institutions. Facing record enrollments, community colleges are stretching limited resources to serve larger constituencies and prepare for future growth.
In 2010, we will continue to see the growth of two-year institutions and their increased adoption of card systems to improve safety, convenience and the bottom line. Providers, in turn, will be called upon to invest even more in high-quality, accessible customer support, installation and training.
Increased Adoption of Card Systems at Community Colleges
Historically, campus card systems have remained largely within the realm of four-year institutions. In 2010, more two-year institutions will realize the value the technology can bring to their rapidly expanding student populations. Two-year institutions will increase their usage of campus card systems to:
Expand and standardize student services
Manage card-based copying and printing services on multiple campuses.
Maximize students' limited time on campus
Provide quick-and-easy payments at bookstores, cafes, vending machines, computer labs, parking facilities and more.
Improve safety and security
Use distributed system administration to allow staff on remote campuses to secure their locations while maintaining control centrally.
Build community
Make services easily accessible, track student involvement in activities and reinforce the college's value with exclusive student discount and loyalty programs.
Continued Investment in Customer Support
Regardless of the type of institution in question, one need will be shared by all: the need for reliable support personnel who are highly skilled and easy to reach, with superior communication skills.
In 2010, providers will focus on making support and training more accessible and affordable. This will take the form of more online case management, local representatives to respond quickly to support needs, and superior education—both in person and online.
Our industry is in a good position entering the new year. Campus card programs provide tangible, measurable benefits to institutions of all sizes, and their strategic value will continue to grow in prominence. Here's to a successful 2010!
About the AVISIAN Publishing Expert Panel
At the close of each year, AVISIAN Publishing's editorial team selects a group of key leaders from various sectors of the ID technology market to serve as Expert Panelists. Each individual is asked to share their unique insight into what lies ahead. During the month of December, these panelist's predictions are published daily at the appropriate title within the AVISIAN suite of ID technology publications: SecureIDNews.com, ContactlessNews.com,CR80News.com, RFIDNews.org, FIPS201.com, NFCNews.com, ThirdFactor.com, and DigitalIDNews.com.