Colleges, universities face economic challenges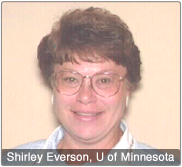 By Shirley Everson, Director, U Card Office, University of Minnesota
We are all aware what a turbulent time this is for businesses and the economy, the banking industry and higher education institutions. It could take years for our investments to recover and for our economy to get back on track.
When it comes to campus cards it's difficult to predict the future. I hope that the campus card environment will continue to grow as the need for added security continues along with meeting other institutional initiatives. I believe those colleges that have thriving and prosperous programs will continue to expand in providing cost efficient authentication, added level of security for their schools, convenience and additional benefits for their institutional members.
I think some of the smaller schools may need to partner with larger already established campus card ID programs in order for a card program to be cost effective.
I think smart cards will be added only if there is a compelling reason for additional security. The same holds true for biometrics. The basic fact is that magnetic stripe technology continues to support most campus functions and it is also very cost effective.
Higher education will continue to tighten their belts and become more creative in offering buy-outs. But layoffs are also a possibility. Campus card ID programs will need to prove their value but we must remain focused on promoting the worth of our products and services we provide for the greater good of the institution.
Banking relationships with institutions of higher education will continue to grow as that collaboration can add value to both parties. Most schools that have a banking partnership receive some level of financial support to their department and institution. Additionally, colleges may receive other benefits such as sponsorships and scholarships. Hopefully, the institution also receives attractive banking products, such as checking, that provides value to their community members. I believe that most banks will also need to be cautious in this area because, as we all know, banks have also been greatly impacted by the economy.
More companies may need to merge as we have seen occur over the last few years, which hopefully will provide product attractiveness along with product quality and more available options for campus card environments.
Those of us in the campus card business must stay strong and confident in what we do and stand firm in the added value services we provide for our colleges/universities. We must keep the "faith" that what we do is for the good of our campus.
---
About the AVISIAN Publishing Expert Panel
At the close of each year, AVISIAN Publishing's editorial team selects a group of key leaders from various sectors of the ID technology market to serve as Expert Panelists. Each individual is asked to share their unique insight into what lies ahead. During the month of December, these panelist's predictions are published daily at the appropriate title within the AVISIAN suite of ID technology publications: SecureIDNews.com, ContactlessNews.com, CR80News.com, RFIDNews.org, FIPS201.com, NFCNews.com, ThirdFactor.com, and DigitalIDNews.com.